Difference Between Warli and Sand Art
Only white paint (made from rice flour) and a colorful background are used in traditional Warli painting. The painting style is typical of cave paintings.Warli Painting is a form of tribal art that uses geometric shapes to depict the various elements of the paintings.
The
Warli Tribes
of India (from the North
Sahyadri
Range in
Maharashtra, India
, the Sahyadri Range contains cities such as Dahanu, Talasari, Jawhar,
Palghar
, Mokhada, and Vikramgad of Palghar district.) inspired the name Warli Painting. The tribes still using this painting technique. Even though the tribal style of art is estimated to date back to the 10th century AD., the style of Warli painting was not recognized until the 1970s. The concept of Mother Nature is fundamental to Warli culture. Some of famous Warli Painting Artist is
Jivya Soma Mashe
and
Balu Mashe
.
On the other hand,
Crushed colored sandstone, charcoal, pollen, or other dry material are applied on colored and smooth sand background to make sand paintings. Sand Painting, a dry painting made by pouring colored sands, powdered pigments onto a surface.
Sand painting is a very old painting technique that is linked to a variety of cultural rituals all around the world, for example the most famous native American Navajo tribe sand paintings. The painting is destroyed after the rite is performed, hence there is no exact evidence of sand paintings. However, the majority of them are still used by people or are mentioned in old literature.
Tim Bengel
and
Kseniya Simonova
are two well-known painters who have been influenced by the painting method.
The Warli Paint is done on colored background using white pigments. Traditionally, the white pigment made from rice flour and water, with gum as a binder is used for the Warli Paintings. The end of a bamboo stick is bitten to simulate the texture of a paintbrush.

On the contrary, The medium used for sand painting is naturally available everywhere. Powdered warli paints in a variety of colors, Sand (from the beach or playground), Other dry materials like Paper and some binding adhesives like glues are the common and easily available substances , which are used for sand paintings.
Because the traditional Warli Painting was built on mud and bamboo made house wall, producing highly saturated artworks was challenging. Along this, it quickly faded because of the rice powder which is traditionally used as pigment. However, nowadays, on hard paper or canvas, specially manufactured white pigment and synthetic binders are used, which gives more durability and enables the paintings to be framed for exhibition.

But, Sand Painting, also known as dry painting, is a type of painting that involves pouring colored sands, powdered pigments from minerals or crystals, or pigments from other natural or synthetic sources onto a surface to create a fixed or unfixed sand painting.
Sand painting requires extreme accuracy and control over the hand's movement. You'll need a lot of practice and patience to sand paint. Sand painting allows you to produce colorful and impressive artwork either on fixed or unfixed medium.
A set of fundamental geometric shapes, such as a circle, a triangle, and a square, are used in Warli paintings. These shapes represent various components of nature. The sun and moon are represented by the circle, while mountains and conical trees are represented by the triangle. The square, on the other hand, appears to be a human creation, denoting a sacred enclosure or a plot of land.

In opposition, Sand Paintings on paper media, with colored sand grains and glues are most common now a days. Such paintings provides stunning looks to any landscape paintings with a impressive three dimensional and glossy behavior.
Warli Paintings are widely use for Advertisements, for animation characters and wide range of other media publications like book covers etc.

Instead, As mentioned earlier, the sand paint is a dry media and can be used on any fixed or unfixed surface. Unfixed surfaces like beach or temporary event surface and glass is used for event or ritual based sand arts. On the other hand, fixed glass, hard plastic board, canvas, wood or hard paper is used as fixed surface for sand paintings. The best part of the sand painting is the realistic three dimensional interpretation of any object. Which makes the sand painting technique unique from other types of paintings. Also due to use of naturally available sand or quartz, the sand paintings lasts longer. Only issue with sand painting is that it requires extreme accuracy and control over hand movements along with patience and practice. Modern artists use oxidized and mineral-charged colored sands, as well as powdered charcoal and, in certain cases, unique materials like iron filings or abandoned stone dust from ecclesiastical sites, to expand the palette. Other artists use a new generation of strong adhesives and commercial colored quartz sands that can withstand inwarlince action. It should be worth to mention that the sand also can be used for sculpting works as part of sensory play.
Warli painting is typically vegan-friendly since it uses naturally occurring color pigments and grains, making it non-toxic as well.

Yet, Sand paint is also non-toxic, environment friendly, as well as vegan friendly.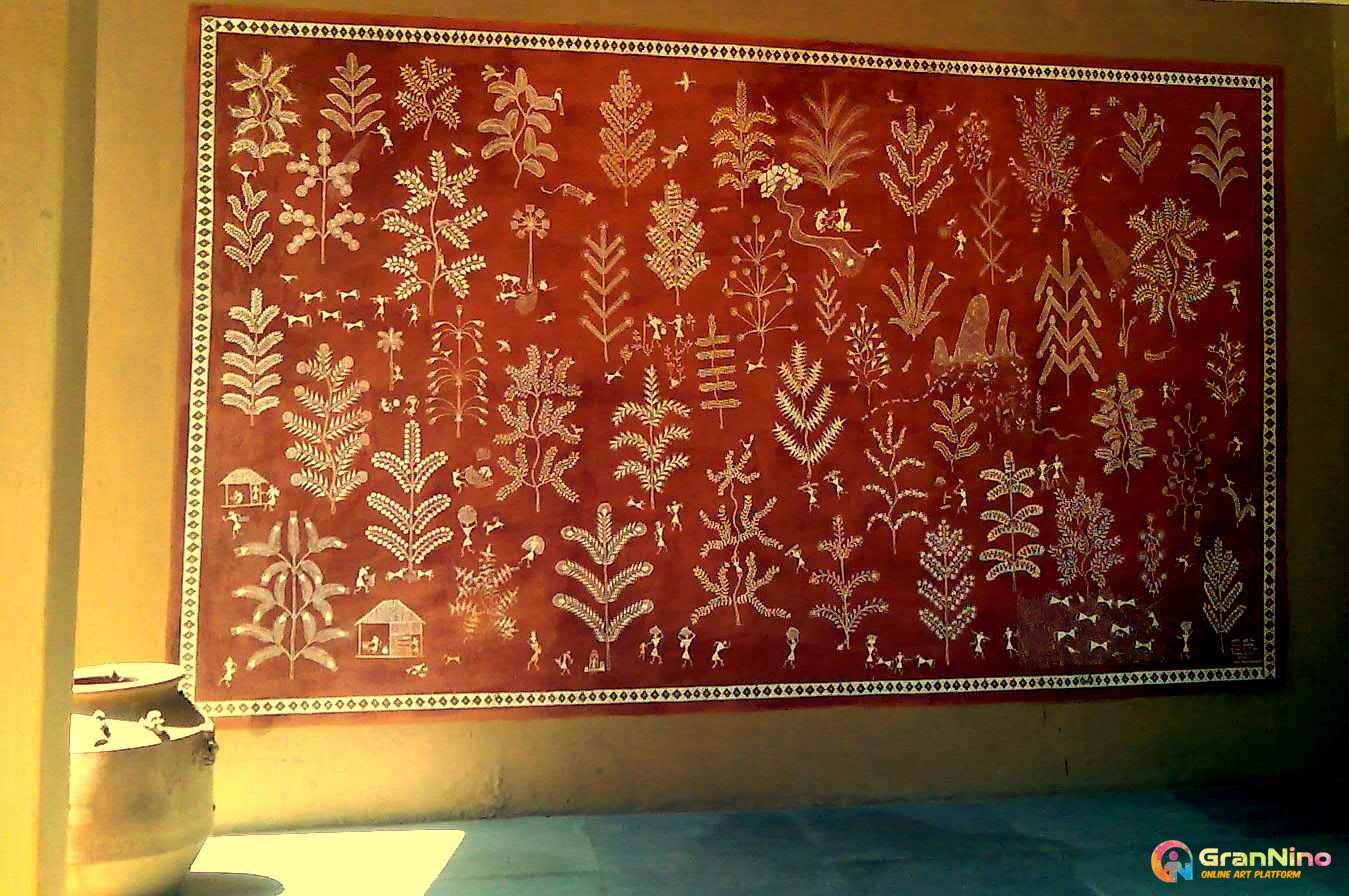 Credit to @oldpaint
Warli Painting
Credit to @balajivara
Sand Painting